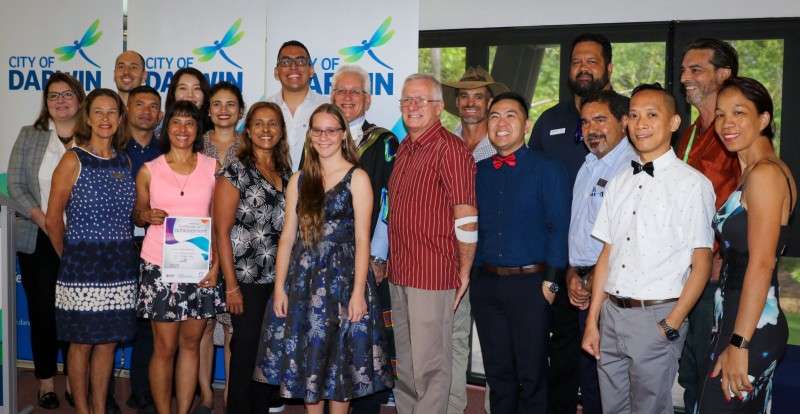 City of Darwin has today announced winners of their Citizen Awards.
 
The Awards include Citizen of the Year, Young Citizen of the Year and Community Event of the Year.
 
The recipients of the 2021 City of Darwin Australia Day Citizen Award Winners are:
 
Darwin Citizen of the Year Award – Sharm Bali
Darwin Young Citizen of the Year Award – Anais Henry--Martin
Darwin Community Event of the Year Award – The Kindness Shake
Lord Mayor Kon Vatskalis said "The Awards recognise people in our community who go above and beyond, and an outstanding community event that reflects how even in the face of a global pandemic, our greatest strength is our community."
 
"It is fantastic to recognise these role models who strive on a daily basis to create a difference in the Darwin community, making it a better place to live."
 
Winners will also be recognised at the Australia Day Celebrations being held at the Convention Centre on Tuesday, 26 January from 10am.
 
 
CITY OF DARWIN AUSTRALIA DAY CITIZEN AWARD WINNERS
Community Event of the Year – The Kindness Shake
The Kindness Shake is a community-led initiative, set up in the early stages of the COVID-19 pandemic, which supports and focuses especially on international students and temporary visa holders experiencing financial hardship.
 
Many international students worked in the Darwin hospitality sectors and unfortunately lost their jobs early on during the pandemic response and were unable to access any government assistance.  The Kindness Shake moved quickly to provide free meals to those affected by COVID, create a sense of connection and support for many students and community members who were feeling the weight of isolation far from home. 
 
Since its launch in April 2020, this partnership between international student volunteers, education providers, local businesses, multi-cultural groups and government has served over 4,000 meals, assisted 500 individuals, partnered with more than 30 organisations and local businesses, recruited 50 volunteers and raised over $40,000.
 
Young Citizen of the Year – Anais Henry--Martin
Anais is a very active member of the Darwin community involved and performing with Corrugated Iron Youth Arts High Fliers, NT Music School Con Moto and Rock School, as well as Darwin Middle School BEAT Choir.
 
Joining the Youth Advisory Committee, in March 2020, Anais recently worked tirelessly for the 2020 Quiz4Dilli, sourcing prizes to the value of well over $800 for the event.
 
Anais spends her spare time volunteering with St Johns Ambulance and the NT Darwin Cadet division.
 
Anais was also named as a recipient for the 2020 Citizen award for Darwin Middle School.
  
Citizen of the Year – Sharm Bali
As a highly regarded community member his work within the disability sector over decades in Darwin is well known, helping and assisting anyone in need. 
 
He is regarded as one of the most generous Darwinians around.
 
Sharm has been running a community service business Territory Care and Support Services (TCASS) since December 2000, a service that supports many people living in Darwin.
 
TCASS employees 50 part and fulltime employees. The primary objective is to provide wheelchair assistance for people to manage their daily appointments.
 
Sharms's volunteer work for more than 30 years has enabled him to be in a position to give back to the community creating many job opportunities for the people of Darwin.