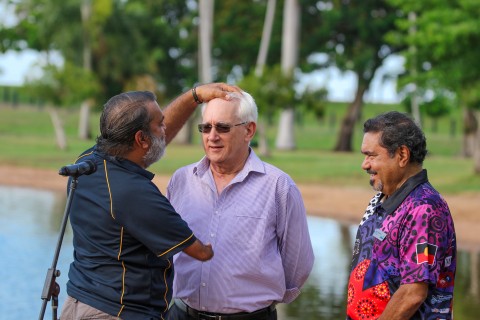 City of Darwin is leading the local government sector in ensuring that working towards greater reconciliation with Aboriginal and Torres Strait Islander People is part of the national agenda.
At the Australian Local Government Association (ALGA) National General Assembly in Canberra yesterday (21 June 2021), City of Darwin called on ALGA to develop a national Reconciliation Acton Plan to demonstrate a commitment by local government to achieve reconciliation on a national level.
City of Darwin also called on the Australian Government to fund a national Aboriginal and Torres Strait Islander Cultural Awareness and Safety Training Program for all Local Government Elected Members and Council staff.
Lord Mayor Kon Vatskalis said that he was delighted that both motions put by City of Darwin Council had been given the green light.
"City of Darwin is committed to reconciliation and this is demonstrated through the development of our first ever Reconciliation Action Plan that was released in August 2020.
"It is only right that reconciliation is led from the very top and this is why our Council felt it was extremely important that ALGA takes the lead on
reconciliation action at a national level. I thank my colleague Alderman Peter Pangquee, City of Darwin's only Aboriginal Alderman, for suggesting this very important initiative.
"To build cultural competency levels of Elected Members and Council staff training is essential. It will help people to better understand the behaviour and beliefs of Aboriginal and Torres Strait Island people and culture, and show respect and facilitate safety for everyone."
City of Darwin's Reconciliation Action Plan (RAP) embraces a spirit of unity between Australia's First People and other Australians, acknowledges our shared history, including past injustices, and celebrates the unique contributes of the First People of this land, the Larrakia People.
A copy of City of Darwin's RAP is available at https://www.darwin.nt.gov.au/council/transforming-darwin/innovate-reconciliation-action-plan.