Do you have greenwaste, e-waste or batteries that you need to dispose of? Whilst these items can't go in your yellow lid recycle bin, it doesn't mean they need to end up in landfill. They can be recycled, here's how.
Not sure how to dispose of an item in your home? 
Our A-Z Disposal Guide will tell you if it goes in the red or yellow bin or if it needs to be taken to Shoal Bay Waste Management Facility. 
E-Waste
What is e-waste?
E-waste is your old electrical appliances that may be broken or just obsolete. Computers, tvs, mobile phones are all e-waste.
E-waste may contain metals like mercury and lead that we don't want to end up in landfill where the toxins can leach into the ground and waterways.
Lots of e-waste can be recycled, so come on, we need your help to keep e-waste out of landfill!
National Television and Computer Recycling Scheme
Under the National Television and Computer Recycling Scheme you can drop off your televisions and computers for recycling at nominated businesses.
Find your nearest drop-off point
Did You Know?

44,730 tonnes of e-waste were recycled under the National Television and Computer Recycling Scheme in 2014–15
Green Waste
Green waste is organic garden waste that can be turned into useful items such as mulch. Please do not put green waste in your yellow lid recycle bin!
Household Batteries
Batteries are electrochemical cells that convert stored chemical energy to electrical energy. We are producing more and more batteries to run our lives. But they contain metals toxic to human health and the environment. Don't throw them in the bin!
Did you know?

You can drop off household batteries, print cartridges and mobile phones at the Civic Centre, Nightcliff Community Centre and HPA - Shoal Bay Trash and Treasure. 
Household Hazardous Waste
Batteries and e-waste are not the only hazardous waste hanging about the average home. If you have items around the home that are considered hazardous waste, you should dispose of these items correctly.  
The safest way to do this is at the Shoal Bay Transfer Station.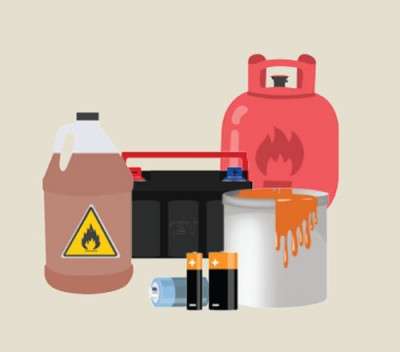 You can take items such as:
car batteries
chemicals (all liquids up to 10 litres)
gas bottles (up to 9.5kg)
oils and oil filters
paint ( up to 10 litres)
Need More?
For advice on how you can dispose of items around your home, try our A-Z Disposal Guide.