Jingili Water Gardens







Something for Everyone 
Jingili Water Gardens is one of the most popular and accessible parks in Darwin. Containing lily ponds, a community garden, BBQs, Accessible toilets, adult change facilities, a shaded all-abilities play space and a skate park - it really does have something for the whole family.
The Jingili Water Gardens is located beside Gurrumbay/Rapid Creek. In the Larrakia langugage, Gurrumbay means 'elbow'. This refers to the shape of the River, which looks like the elbow of the ancestor Dariba Nungalinya (Old Man Rock). For thousands of years, this has been a special place to the Larrakia people, the First Nations custodians of the land and waters of the greater Darwin Region.
---
All-Abilities Play Space
The Jingili Water Gardens includes an accessible play space featuring a turn table, swings, balance log, tunnel and musical instruments.
Accessible Adult Change Facility 
Please note the hoist is not currently operational and undergoing repairs (18/10/22)
Darwin's first accessible adult change facility is located within the Water Gardens and provides secure and private facilities for people with disability, with high support needs, who require assistance from a carer, or who require specialised equipment. The facility includes an adult size, height adjustable change table, a hoist and enough room for two people to assist.
The facility is locked to protect the facility and equipment against vandalism, but accessible 24/7 with an MLAK key. A key can be collected free of charge from the Civic Centre. To order a permanent key, please complete this webform.
Skate Park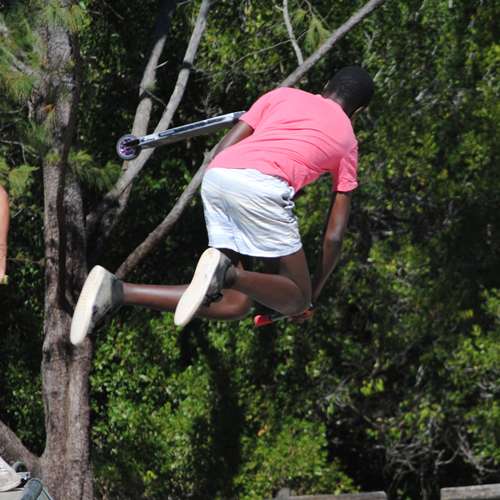 Located off Bagot Road, Jingili Skate park is always full of life.
Community Orchard
Located within the Water Gardens, the Community Orchard is a place for the community to come together to learn about growing fruit in our tropical city. Each tree planted in the orchard has information about how it can flourish in our environment. Community members can help themselves to the fruit in the orchard.
Fruit Tree Fact sheets

If you are interested in any of the trees in the orchard, these fact sheets are a handy place to start.

Dwarf Golden Plum - Spondias cytherea
Black Sapote - Diospyros digyna
Bay Cherry - Eugenia reinwardtiana
Avocado - Persea americana
Mangosteen - Garcinia mangostana
Pomegranate - Punica granatum
Tahitian Lime - Citrus x latifolia
Meyer Lemon - Citrus x meyeri
Valencia Orange - Citrus x sinensis 'Valencia'
Jackfruit - Artocarpus hetrophyllus
Lemonade - Citrus limon x reticulate
Peanut Tree - Stercula quadrifida
Kumquat - Fortunella margarita
Longan - Euphoria longana
Madrono - Arbutus menziesii
Mata Kucing - Euphoria malaiense
Guava - Psidium guajava

City of Darwin gratefully acknowledges the assistance of Chris Nathaniel of Tropiculture Australia in putting the fact sheets together.

Public Art

The play space within the Water Gardens includes a shade cover, green ant play nest and accessible change facility featuring art work by the Freespace Studio Public Art Collective working out of Darwin Community Arts. They are:

Tara Darcy
Tara Darcy is Yolngu woman from Maningrida, Tara's works speak of her
deep connection to country and the community of Maningrida. Tara's works
often show the plane from Darwin to Maningrida; depicting views of the
community from the air, showing her family and the houses in Maningrida.


Abigail Maralngurra
Abigail Maralngurra is a young artist from Belyuen community, now based in
Darwin. Abigail's works relate to her proud indigenous culture, her
community and family. Abigail paints a mix of subjects, from dreaming
stories, to social situations in the community, to pop-culture references.


Joanne van Roden
Joanne van Roden's work is predominantly figurative, often working in both
drawing and painting. Joanne's practice and ways of working are diverse,
at times detailed and planned and at other times loose and expressive,
depending on the subject matter.