Public art beautifies and stimulates thinking, giving us a sense of place and how we engage with those spaces.
Our interactive public art map includes artworks commissioned by City of Darwin, the Northern Territory Government and the Darwin Waterfront Authority. Darwin Visual Arts prepared the self guided art walk map.
Self Guided Art Walk
This curated art trail includes 11 public artworks and spaces that showcase our tropical; CBD and Darwin Waterfront. Darwin Visual Arts Association (DVAA), the curated art tour has been funded by City of Darwin.
The tour features artwork from across all mediums, including sculpture and mosaics, glass work and murals. Through the tour people of all ages and abilities can access and enjoy this wonderful public art.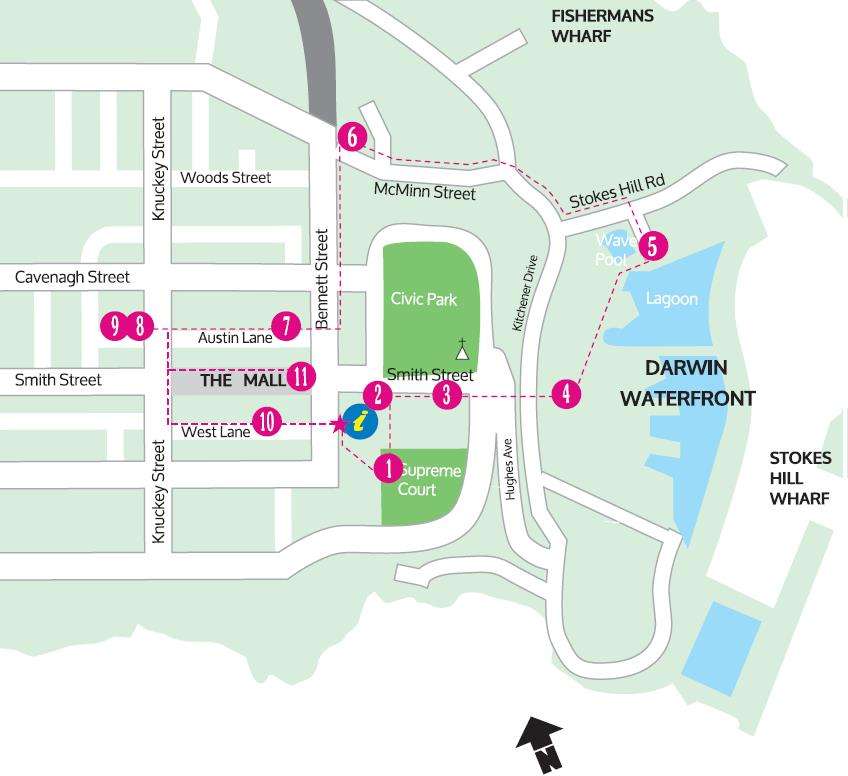 Begin walk at Tourism Top End (TTE), facing TTE to your right is parkland that makes up part of the Northern Territory's State Square. Meander through Bennett Park and on your right is Parliament House. Stop in for a tour if you have time. Dead ahead is the Supreme Court.
That's where you're headed!
Enter the building, head on through security and walk forward.
1- Yiwarra Jukurrpa - The Milky Way Dreaming
Artist Norah Nelson Napaljarri

The artwork on the floor of the Supreme Court Foyer depicts the dream time legend of the seven sisters who travelled through Warlpiri country pursued by a lusty Jakamarra man. The sisters turned themselves into fire in order to escape and put themselves in the heavens as stars. The man found out what they had done and turned himself into a star, and as the morning star is unable to pursue the sisters into the night sky.

Explore the art works on the ground and 4th floors and when on the 4th floor look down upon Yiwarra Jukurrpa for an awesome perspective of this work.

2- Mokuy
Artist Nawurapu Wunungmurra

Yolgnu people live within a system of ancient spiritual beliefs, set in place by the creator beings and ancestors through epic journeys and events known as Wangarr – the first morning.

Mokuy, or spirits progress on an eternal cycle through the landscape. When our bodies die, the spirit must be sung through to the reservoir of souls from where it came.
Cast bronze

Across the road is Christ Church Cathedral with a Memorial Window is set into the arbour wall, behind and to the right of the altar, is a contemporary-style stained glass window.

It represents fishing nets and the upsurge of waves during a cyclone. The coloured glass in pastel shades was imported from England.

This Dalle de Verre window was financed by a Gollin Kyokuyo Trust fund, and designed by George Chaloupka.

Gollin Kyokuyo was a joint fishing venture operating out of Darwin at that time and had lost seven sailor/fishermen and three steel hulled trawlers out of six that had been in the harbour that night.

3- Chinute Chinute
Artist Koolpinya Richard Barnes

Chinute Chinute is a Larrakia (Traditional Owners of Darwin) spiritual ancestor who exists within the sacred site known as Stokes Hill adjacent to this walkway. This ancestor manifests itself from time to time as the Tawny Frogmouth and stands as sentinel to the waterfront area. 
Cast bronze

4- Gapu Guya (water fish)
Artist Wukun Wanambi

Wanambi learned the sacred designs of his father from Elders in 1997. "Since my father passed away… 10 years later I started to come out as an artist. Now I have been recognised by the old people as a ceremony man. When I was doing the sea rights thing that gapu hit me really hard. That's when I realised how important gapu was to me and how the guya is connected to gapu."
Ceramic print on glass.

5- Fragment
Artist Katrina Tyler

Katrina is a Melbourne sculpture artist. Utilising traditional jewellery and metal smithing techniques her work seeks to explore real and imagined sites of intersection and co-habitation between natural and urban habitats, representing the constant activity and cycles of growth, decay and evolution that are omnipresent within the urban environment.
Cast aluminium

6- Darwin Visual Arts

Darwin Visual Arts (DVA) is an artist run initiative, not for profit gallery that aims to act as an incubator for emerging and professional artists. DVA has regular exhibitions of local artists' work, runs regular art workshops and has on-site artist studios. DVA is open between midday and 5pm Tuesday to Friday. Stunning termite mounds mark the spot - you can't miss them.
Stop in and say hi!

7- Austin Lane Part 1

Bursting with colour and life. Stroll down the lane and be sure to look up and stop to look back every now and again. Street art abounds from the Darwin Street Art Festival that is now an annual event in the CBD.

8- Austin Lane Part 2

Part two gives a very different street art perspective with one piece from the Street Art Festival and the walls of the laneway literally covered with street art. This area is the original CBD street art space that was negotiated between the building owners and the artists to enable expression and keep the street art to one area. From this small initiative has grown a vibrant street art community. 
Artists: Makatron and Sped,Tom Gerrard, Polly Johnson, Ryan Mellicot, Elle, Phibs, CTO, Andrew Bourke

9- Air Raid Arcade

The Air Raid Arcade is an historic Darwin landmark that has recently undergone a transformation into a funky and eclectic art space. Home to Mad Snake Café that is literally covered in murals and hosts many and varied activity evenings, Radio Gnome Records where life drawing classes or live music amidst old vinyl set the tone, Air Raid Records mixes live music with vintage records, Cloth by Anna Reynolds - a Darwin fabric and textile artist of note, the latest addition Babylon Bar and strangely interesting art installations in some shop windows - it has something for everyone.

10- West Lane

Again, look up, look back and take your time to drink in the wide variety of artistic style from the Street Art Festival. Seasoned street artists and local artists came together for the two street art festivals to learn, exchange knowledge and culture and to brighten the lanes of Darwin.
Artists: Jesse Bell, Kaffeine, Jason Lee, George Rose, Hafleg, Vincent Poke, Polly Johnson, Paint by numbers, Loretta Lizzio.

11- Smith Street Mall

Features some interesting yet tucked away art pieces. Ever changing art installations are in plain sight yet blend into the Mall's busy-ness. Again, look up,look down and look all around.
At the end of West Lane, turn left back into Bennett St. Here, you are either at the end of the journey or wander down to the Smith St Mall and explore several commercial galleries.
Public Art Map
Public artworks include outdoor sculptures and murals.
It does not include commemorative plaques or temporary art. Our map is not a complete listing of all works in the municipality and focuses primarily on works under our care.
HMS Beagle Ship Bell Chime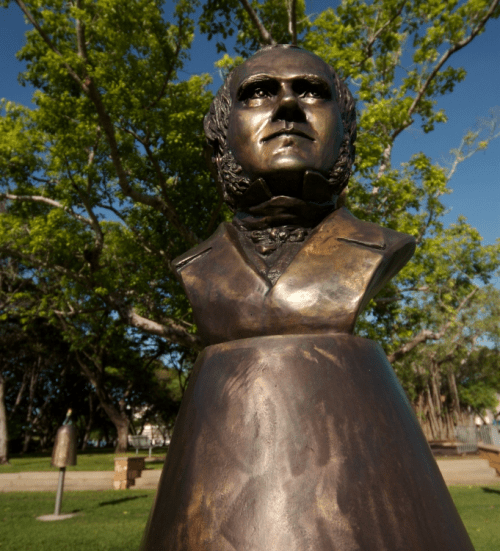 The HMS Beagle Ship Bell Chime was commissioned by City of Darwin in 2009 to celebrate 200 years since the birth of Charles Darwin (1809-1882).
The Bell Chime can be heard daily and this musical instrument highlights Charles Darwin's second expedition on the HMS Beagle from 1831-1836 which is famously referred to in the book 'Voyage of the Beagle'.
The Bell Chime features a series of cast bronze bells and a replica HMS Beagle ship's bell, cast in brass, and atop each bell is a selection of birds cast in bronze from the small Budgerigar to the large Black Cockatoo.
Created by Dr Anton Hasell of Australian Bell Pty Ltd, the Bell Chime is located in Civic Park outside the Civic Centre entrance. For more information on Dr Anton Hasell and his work please visit www.ausbell.com.au
Program of Musical Compositions
Convergence by Kris Keogh Listen/Download
Origin of the Stars by Madeleine Davey Listen/Download
Unwind by Anthony Jarvis Listen/Download
Sound recordings by Jeremy Conlon - Left of Elephant Sound
More Information
For further information contact
Page header image: Intertwined by Aly De Groot 2014